After 31 years of service, Warren Hicks – pharmacist at Super Thrifty Drug Mart in the Otineka Mall – officially retired today, September 23rd, 2022.
"We would like to give our thanks to Warren for serving my family, our friends, and our nation for these past 31 years," said Ginger Martin, Chief Executive Officer of the Paskwayak Business Development Corporation, "your retirement is well deserved and congratulations."
"I would like to thank everyone in the Opaskwayak and the tri-communities. I have had the honour to serve not only you, but your parents and parents' parents. Thank you for this," said Hicks, adding, "but just because I'm retiring does not mean I'll come back and visit this beautiful area and its lakes. Thank you."
Hicks was presented with several gifts from the Otineka Development Corporation Manager, Gloria Asmus, along with cake for the patrons.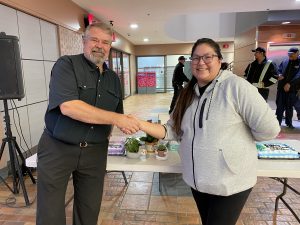 On behalf the Paskwayak Business Development Corporation, we would like to extend our well-wishes to Warren Hicks and wish him all the best in his retirement.
###